Outstanding attendance and punctuality is an expectation of all of our 'Park View Learners'
Please click on the following link to see a letter from Haringey education welfare service on the importance of attendance:
FIXED PENALTY NOTICE FOR PARENTSNationally, poor attendance to school is one of the main causes of a lack of student progress and under-achievement.
At Park View, outstanding attendance and punctuality are celebrated on a weekly and termly basis. The school, our parents and the students themselves all have an important role to play in ensuring attendance and punctuality remain high.
If your child is absent from school for any reason please call: 0208 8881722 to register their absence. Or the Attendance and EWO Officer on 020 8826 9188 or email attendance@parkview.haringey.sch.uk
Students are encouraged to monitor their own attendance and know what colour coded band they belong to. All students should aim to be in our green and blue bands.
We will inform if your child moves from one band to another.
If your child is absent and the school hasn't been notified you will be sent a text message or email. You may be called by someone in the pastoral team, or our Attendance Officer.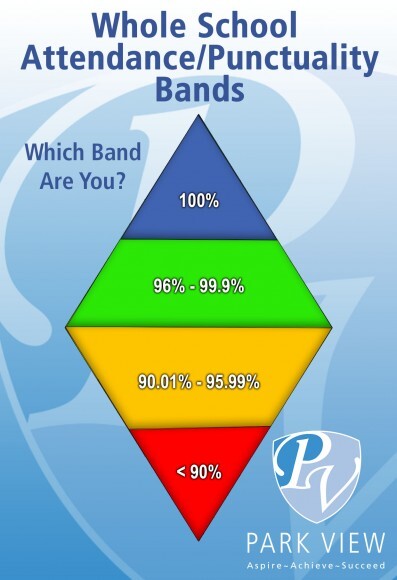 Student Absence
Park View reserves the right not to authorise absence where there is no evidence of a suitable reason for your child to be missing school.
Please note that students who are in our red band will be required to provide medical evidence for absences of any length. Absences for other reason may not be authorised.
Type of Absence

Detail

Action

Who

Term Time Holidays

These will not be authorised

Referral to Attendance Officer: Fixed penality notice is likely

EWO

Religious observance

1 additional day permitted during the academic year

Notice should be given in advance

Students must catch up on any work missed

Parent / carer

Student

Family bereavement

The length of authorised absence will be assessed on a case by case basis

Please notify the school with expected return date

Additional emotional support or counselling offered to student as required

Parent / carer

Pastoral team

Sickness

If a student is absent for more than three consecutive days due to sickness an appointment card or letter from a doctor should be provided to the school

Parent/carer to notify school on first day of absence

Continue to notify after 3 days to update on expected return date

Parent / carer

Medical appointment

We discourage these during school hours

Where this is unavoidable, please provide a copy of the appointment letter/card

Copy of appointment card or letter

Parent / carer

Other offsite appointment

E.g. interview for College placement

Note: students must not be used to attend appointments to translate for family or to miss school to undertake carer duties

Advanced notice must be given with a copy of appointment / interview time

Parent / carer

Special consideration

Any other exceptional circumstance

Make an application in writing to the Headteacher

Parent / carer